Setu BBPS
Power payments with BBPS
As a biller, become discoverable on all popular UPI apps and collect repeat payments with ease.
As a customer platform, embed and monetise bill payments with revenue for every successful payment.
Read more about BBPS ↓
Get paid easily anywhere in India, online or offline
On a BBPS app
Billers using BBPS to get paid—




Let users pay bills, and earn from businesses who get paid
Your customer platform
Pay your bills
LIC Premium
Bill generated in 25 days
Top categories
Other payments
Platforms monetising bill payments—




---
Choose the BBPS integration that's right for you
Benefit from an interoperable network for payments
BBPS connects businesses that need repeat payments, to their customers, through customer platforms like payment apps or offline collection centres.
Our BBPS bank partners
Setu works with trusted banks who are authorised to offer BOU and COU integrations.
---
Hassle free payments for customers and businesses
A single payment framework, to serve many stakeholders
Billers—businesses who need recurring payments
Any business offering goods or services on a monthly or annual basis, can collect payments using BBPS with a low effort integration, and at low-cost.
Agent institutions—user-facing platforms for bill payments
Any platform that wants to offer bill payments as a feature—via apps, websites or offline collection centres—can use BBPS to earn revenue from the businesses their users pay.
Customers—wanting to pay businesses easily
Customers can choose any popular BBPS-enabled app, website or offline point to pay their bills easily and regularly.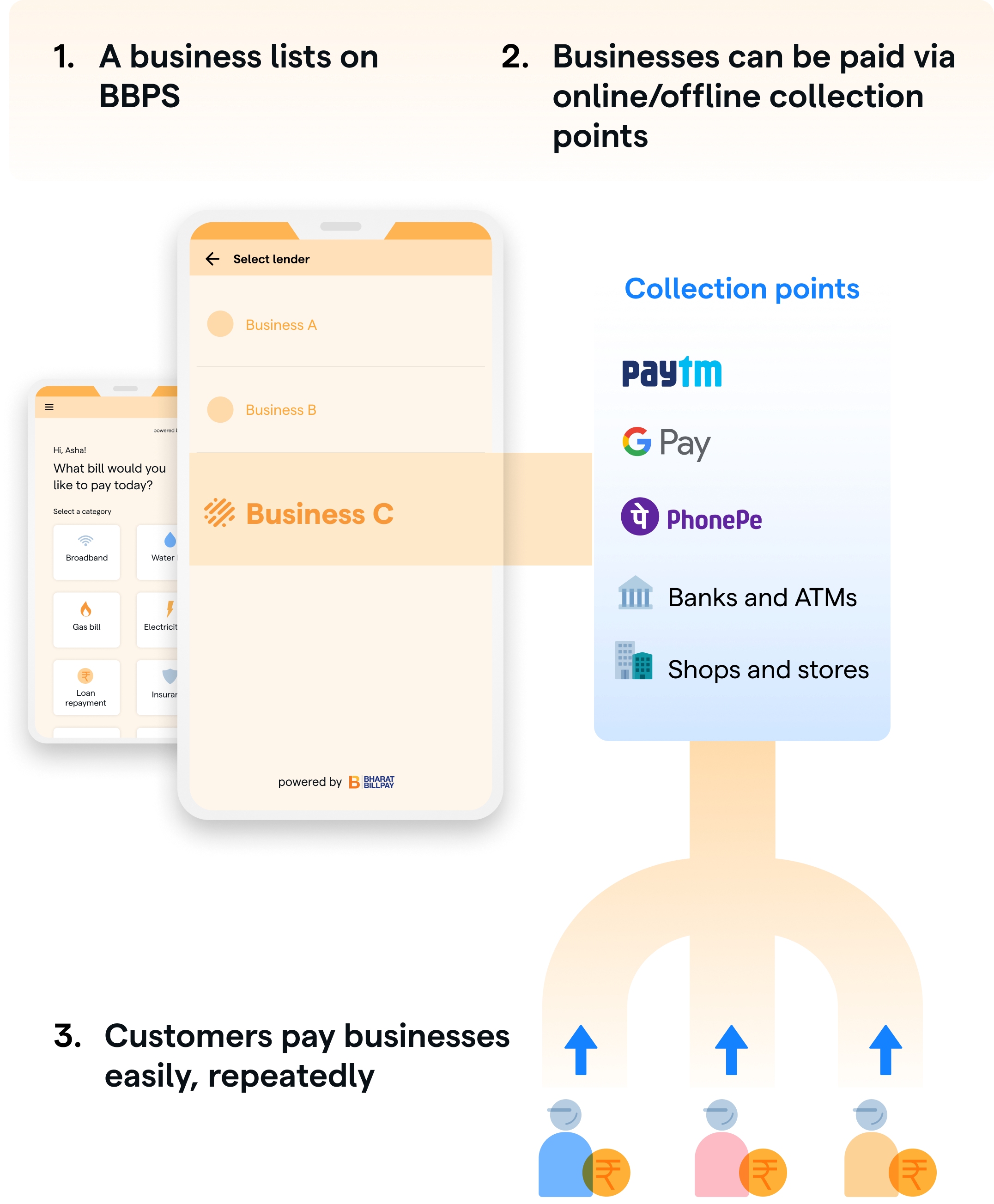 The BBPS network has—
400+ online agent institutions, which are payment apps and websites for customers to pay billers
BBPS also has 3.5 million+ offline agents like bank branches, kirana shops and more, supporting payment in 10k+ pin codes in India.
Below is a demo for how a customer pays a biller on BBPS, using a BBPS-enabled agent app—a customer paying back their EMI to a lender.
STEP 1
A customer searches for their lender.
Hi Asha!
What bill would you like to pay today?
Select category
---
STEP 2
They enter their loan ID.
---
STEP 3
They see their bill, pay amount and get a receipt.
Loan repaid!
Download receipt
https://dmr-ss.com/receipts/jh91-2239-83
---
Access the best integration experience
Whether you opt for our BOU integration for billers, or COU on-boarding for agent institutions, we've got you covered.
Painless on-boarding
Get guidance on regulatory compliance and go live in days.
No-fuss integrations
Opt for no-code biller integration or use theme-able, pre-built screens for embedding bill payments as an agent.
Grow your business
Collect payments online or offline, with one integration. Or boost user retention and revenue by embedding bill payments.
---
FAQs
What is BBPS?

Bharat Bill Payment System is a payment ecosystem on which different categories of billers can register on, with bill payments enabled for utility bills, loan EMIs, school fees, subscriptions and more.

BBPS is run by NPCI that enables bill payments via digital (bank channels) as well as through a network of agents & bank branches
---
What is NPCI?

National Payments Corporation of India maintains the BBPS payments system. It undertakes clearing and settlement activities for transactions routed through BBPS.

NPCI is also responsible for setting business standards, rules and procedures for technical and business requirements for all market participants. It is the regulatory body for BOUs, who are entities allowed to on-board billers onto BBPS.
---
What is BOU and COU?

BOUs or Biller Operating Units and COUs or Customer Operating Units are licensed entities (usually banks) ) who can offer BBPS services to other businesses. Setu works with BOUs and COUs to offer corresponding integrations.

BOUs serve billers, i.e entities that generates bills for goods or services and want to collect payments. Setu's BOU integration helps billers list on BBPS to enable collections via BBPS apps or offline points.

COUs serve customer-facing platforms, i.e entities that offer various products to any end-user. Setu's COU integration helps such platforms become a collection agent for BBPS and add a feature to let their users pay any BBPS biller.
---
What role does Setu play?

Setu acts as a bridge between BOU/COU banks and other businesses (billers or customer-facing platforms), offering simplified integration and compliance. We also offer additional services like data reports, notifications and settlements for any bill payments.